OUR SERVICES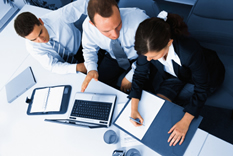 Sustainable growth is key to long-term success in today's business environment. One factor that consistently distinguishes top-tier organizations – of all sizes, across all industries – is an unwavering commitment to developing people, strategy, and processes.
Using methodologies proven to result in positive behavior change, Touchstone Executive Development works with individuals and organizations to achieve higher levels of success, to improve performance and results, and to enhance the bottom line.
DEVELOPING THE INDIVIDUAL
Our processes and tools are based on solid research and emphasize ATTITUDE DEVELOPMENT and GOAL ACHIEVEMENT. Results can include:
Increased productivity
Improved individual performance
Increased sales revenues
Enhanced time management
Alignment of personal and organizational goals
ORGANIZATIONAL DEVELOPMENT
Organizational Development contemplates change and transformation of organizational strategies, structures, and processes. Results can include:
Increased profitability
Enhanced market share
Improved customer loyalty and retention
Decreased employee turnover
Increased efficiency and synergy between departments
PRESENTATIONS AND WORKSHOPS
TOUCHSTONE will customize special presentations and workshops for your event and your audience. Engaging and interactive training methods enhance the learning experience – and practical tools make it easy to apply concepts!
Topic categories include:
Communication
Leadership
Personal Effectiveness
Customer Loyalty for Leaders
Sales POWER